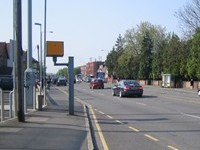 Slough has fixed camera sites, operated by Thames Valley Police across the borough.
How are camera sites identified?
All of our existing camera sites were installed prior to March 2001, based on criteria agreed by the Highway Authorities in Berkshire.
These criteria were:
evidence of a speed problem
local residents concerns
high casualty rates 
proximity to vulnerable road users.
In 2001 the Department for Transport provided the first set of national guidelines for installing cameras; four or more accidents involving killed or seriously injured people had to occur at a site over a three year period. Slough has not yet had any such sites.
Mobile sites
Mobile vans are also used to monitor speeds across Slough at sites that meet the following criteria: 
a high collision rate 
high speeds
a location for the van to park.
If you have any sites that you would like us to consider for inclusion on the mobile site rota please e-mail: tfs@slough.gov.uk.
Many motorists believe that safety cameras are there to increase revenue and catch people out. This is not the case; they are there to save lives. Various national and international studies have looked at how effective safety cameras are at reducing road traffic crashes; each successive study has gone on to prove that cameras are an extremely useful and effective tool. The most recent authoritative study was undertaken by Professor Richard Allsop which concluded that if the Britain's safety cameras were to be removed we would have as many as 800 extra deaths on the nation's roads.
For more information on safety cameras in Slough, including their location, please visit the Safer Roads website.